October is a month often spent getting ready for Halloween - buying candy, making costumes, and planning mischief. This combination of "treats" and "tricks" reminds us that although life can be very sweet, it can also throw some challenges our way that keep us from leading meaningful, productive lives. We sometimes have to endure a wicked witch or haunted house to reach the hoped-for bowl of candy at the end.
To do my part to help you move beyond life's "tricks", I am reposting a "treat" of an article written this past spring by Sherry Essig, in honor of Dr. Seuss's birthday. Sherry shares strategies for getting unstuck and moving forward through a playful introductory poem and encouraging quotes. Good advice for young and old, Dr. Seuss's wisdom empowers each of us to take responsibility and control...and to create lives that are full of positive self-reflection, rewarding adventures, and exciting surprises.
Guilford County Partnership for Children
Good business comes from good referrals. If you like the work we do, please remember to pass our name along to those in need of our services. Thank you.
________________________________________________
Word count: 530
Approximate Reading Time: 4 Minutes
Seven Surefire Strategies for Getting Unstuck
From Dr. Seuss
(This article is a reprint from Sherry Essig's ezine, March 2012 edition)
by Sherry Essig
I'm feeling so stuck!
I frown and I pout,
Cuz stuck is no place
That I want to hang out.

But then I remember
Stuck's not where I'll stay
It's simply a place
That I pass on my way.

To live my potential
To live life with joy
The unstuck process
Is what I'll employ.

With a few deep breaths
I'll soon feel renewed.
I now have the space
To take the big view.

So yes, we get stuck!
Not all terrible though,
Because getting unstuck
Helps you learn, even grow.

It'll happen again,
But with wisdom and pluck
I'll find my way back
To the land of unstuck.
These seven quotes from Dr. Seuss are all powerful strategies to get - and stay - unstuck.
"Be who you are and say what you feel, because those who mind don't matter and those who matter don't mind."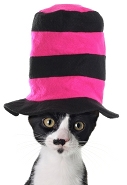 Be authentic.
Before you declare you can't be yourself, check your assumptions. Will you really get fired, miss out on a promotion, lose your friends, or whatever harrowing scenario you're envisioning?
There's a good chance it's not true.
On the other hand, if you truly can't be who you are and respectfully say what you feel, you're hanging out with the wrong people. Go find your tribe!
"You have brains in your head. You have feet in your shoes. You can steer yourself in any direction you choose. You're on your own, and you know what you know. And you are the guy who'll decide where to go."
The choices you make create the life you live. Don't fritter away your power of choice.
"Sometimes the questions are complicated and the answers are simple."
In the midst of stuck, everything feels complicated. If it felt simple, you wouldn't be stuck!
99% of the time, formulating the questions is what's difficult. Once you find the right questions, your heart and your gut will give you the answer you need.
If you're struggling with what to ask, find a friend, a colleague, or a coach to help. Don't make things harder than they need to be.
"Today is your day, your mountain is waiting. So get on your way."
Don't get stuck getting ready to be ready. Just get going.
"If things start happening, don't worry, don't stew, just go right along and you'll start happening too."
Worry may worm its way into your psyche. But you get to control how you react when it surfaces.
As one of my yoga teachers said, "If you can do something about it, why worry? If you can't do anything about it, why worry?"
So, take a deep breath and choose to "happen."
"You'll miss the best things if you keep your eyes shut."
Be present and enjoy the journey.
"Oh, the things you can find if you don't stay behind!"
Keep moving forward, eyes and heart wide open, and grab all the growth and learning you can find!
"Today you are You, that is truer than true. There is no one alive who is Youer than You." ~ Theodor Seuss Geisel (Dr. Seuss)
Special thanks to Caryn Ginsberg for her help in making the opening poem rhyme!
Bottom Line: Whimsical and entertaining, Dr Seuss' stories often tackled serious issues. And even when pure fun, there was always wisdom to be found. March 2nd was the 108th anniversary of Theodor Suess Geisl's birth. In his honor, this article gives you seven surefire strategies to get unstuck, each one straight from the pen of Dr. Suess.
Sherry Essig is a business-life coach with over 10 years experience helping professionals live inspired, energized and unstuck. She can be reached at Sherry@Flow-Dynamix.com and you can subscribe to her free newsletter by visiting www.Flow-Dynamix.com.
________________________________________________
Visit the current calendar of events on our website.
________________________________________________
In This Issue


Current Searches
Article of the Month
The Bottom Line
Event Calendar
_______________
A Client's Perspective
" I appreciate your kindness in regard to your role in the process. Please know that the extra effort that you put into contacting the remaining applicants is valued, especially in this job market. "

Patti
applicant
_______________
Heard Around Town

"When you come to the end of your rope, tie a knot and hang on."

~ FDR
_______________
Submit an Event
Let us know about your upcoming professional development events by emailing us at info@capabilitycompany.com. Please give the date(s) and any additional pertinent information. _______________
Give Us Feedback
Is there something you'd like to see? Something you'd like to change? Your opinion is important to us. Please, send us an email and let us know.